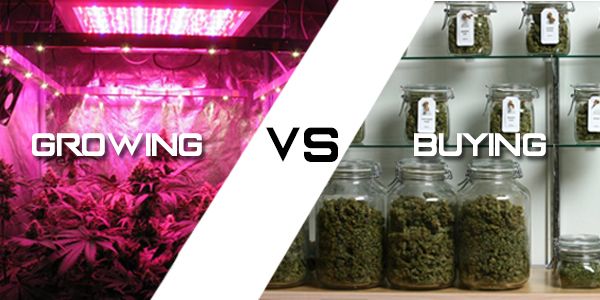 What are the economics/benefits of growing your own MJ versus buying from a dispensary?
Marijuana is also popular by the name of cannabis and it is a plant that acts like a psychoactive drug. Earlier, only the recreational uses of marijuana were known but nowadays it is extensively used for medicinal purposes as well. Marijuana can be used in various forms: it can be used for smoking; its extract can be added to food items; its oil can be applied on the skin, and it can be used for vaporizing for example. It has shown wonderful results in treating health conditions like cancer, glaucoma, heart problems, anxiety, depression, body pain, skin disorders, digestive disorders and much more, and that is the reason why many people state time and time again that they love growing marijuana.
Which is the right choice- growing marijuana or buying it from a dispensary?
Nowadays, medical practitioners are also recommending the use of marijuana for treating various health related disorders. If you wish to buy marijuana, the first thing that will come to your mind is to look for a dispensary that supplies it. But you may not know which dispensary is supplying the right quality of marijuana and whether genuine prices are being charged. So it is a better idea to grow your own marijuana as it offers a lot of benefits over the marijuana that is procured from a dispensary.
Here are the benefits of growing your own marijuana:
• Economical
The first thing that you will notice if you go to buy marijuana from a dispensary is that it is usually overpriced. But if you grow marijuana in your home then it would be far more economical and will help in saving a lot of money. You just need to invest one time for high quality seeds; soil, fertilizers etc and then you can have as much marijuana as you want. Many people love growing marijuana not only for themselves but they have even started their own businesses by supplying high quality marijuana to the people in need.
• High quality is guaranteed
If you buy marijuana from a dispensary, you may never know about its true level of quality because there are many varieties. But once you will grow it in your home you will be assured that there is no compromise on the quality front.
• You can grow as much quantity as needed
When it comes to buying marijuana from a dispensary, you have to think twice about its quantity, but if you will grow it on your own then this issue will be resolved completely.
• Easily convertible for specified uses
By growing marijuana on your own you can easily convert it in various forms like you can secrete its oil and apply for skin related concerns, its extract can be added to food, or you can simply use it like a vaporizer. So it would be a great advantage altogether.
• Everything will be supervised under your hand
Growing marijuana on your own gives you the privilege to supervise everything under your own hand, thus there won't be any compromise in its standards and you will get the best quality for it.
Now you must have gotten a complete idea to what the benefits are of growing your own marijuana versus buying from a dispensary, so it is guaranteed by following the aforementioned advice here then you would also say: I love growing marijuana.
Invest In MJ Editor Notes:
The article above was provided by James Hayes and are his opinions from his research. The views expressed above are not necessarily the opinions of Invest In MJ and we suggest you conduct your own research to determine the level of accuracy of the information contained in the article.
Here at Invest In MJ we believe that growing your own is an excellent option versus purchasing from a dispensary or other source. There are numerous benefits to being able to grow your own cannabis and there is a lot of information out there to help you get started. Cannabis is an enjoyable hobby to undertake once you have completed your research. With so many ways to grow and a variety of products to meet the needs of the everyday consumer, it can leave some people confused about which route is the best for them. Ultimately, growing your own (with some experience) will allow you to have control over your strain quality, grow method and it will also save you a lot of money in the long run.
While good quality seeds are a great investment, you should also invest time in researching the lights, tents and other equipment required for an excellent home set-up. We believe that LED grow lights are the way of the future. They do cost more than standard HPS but they last longer, use less electricity and they run at a much cooler temperature. We love Cirrus LED Grow Lights because they offer the latest technology and the light operates from an App on your Android of iOS device from anywhere around the world. Cirrus T series lights also give you 5 individual channels to control the red, white, blue, UV and IR rays of light. Take a look at all of the Cirrus products over on LED Tech Store.

Along with the proper lighting, you will also want to research tents, filters and fans to make sure that you have the best climate control and air flow in your set up. We encourage consumers to look at Gorilla Grow Tents because no one on the market makes a better tent than what they produce.
Through our own research we have found that the average cost of a personal home set-up with premium equipment will cost roughly $2500-$3000. Based on the average yield per light, you should be able to obtain 1lb of cannabis per light and it can be produced for roughly $2-$3 per gram. That means that 1lb of home grown cannabis is roughly $1300. The average cost per gram from a Licensed Producer in Canada is $10 per gram and you can typically only purchase in 1 gram increments. This means that 1lb of Cannabis from an LP would cost $4480. The numbers can vary if you are able to purchase cannabis for less than $10 per gram but ultimately it is much more affordable to make the investment in the equipment. Technically you would have the ability to produce 1lb of cannabis every grow cycle and there are 4 cycles in a year.
There are many options for consumption of cannabis products today from oils and extracts to edibles, topicals and tinctures, the options are nearly endless. We believe that oils are the way of the future when it comes to cannabis as it offers a wide variety of deliver systems in this form. The ability to easily produce these oils is questionable as there is a very tough science behind producing and distilling a product to its purest form. We will be releasing an article shortly regarding the process of creating oils and distillates and the trials and tribulations associated with it.
Growing your own cannabis is an excellent choice for the consumer who wants full control over their product and you will also save money. The investment for equipment is critical to produce a premium product and we have found that you really do get what you pay for. We encourage everyone to take the time to research growing, the equipment required such as lights tents and fans and the different methods of growing. By researching you will find out the correct method that's tailored to your needs.
If you are interested in learning more about the cultivation of cannabis and you are located in the Niagara or New York region, take a look at the upcoming Grow Up Cannabis Conference & Expo that is being held on Oct 6-7 at the Scotiabank Centre. It is an excellent opportunity to learn about the equipment and the science behind cultivation. For more information on tickets and how to attend click here.

*The numbers used to calculate the average costs from Licensed Producers in Canada are estimated based off of the research that we have conducted. Costs can vary.*